Simple and privacy-friendly

alternative to Google Analytics
Plausible is a lightweight and open-source website analytics tool. It doesn't use cookies and is fully compliant with GDPR, CCPA and PECR. Made and hosted in the EU 🇪🇺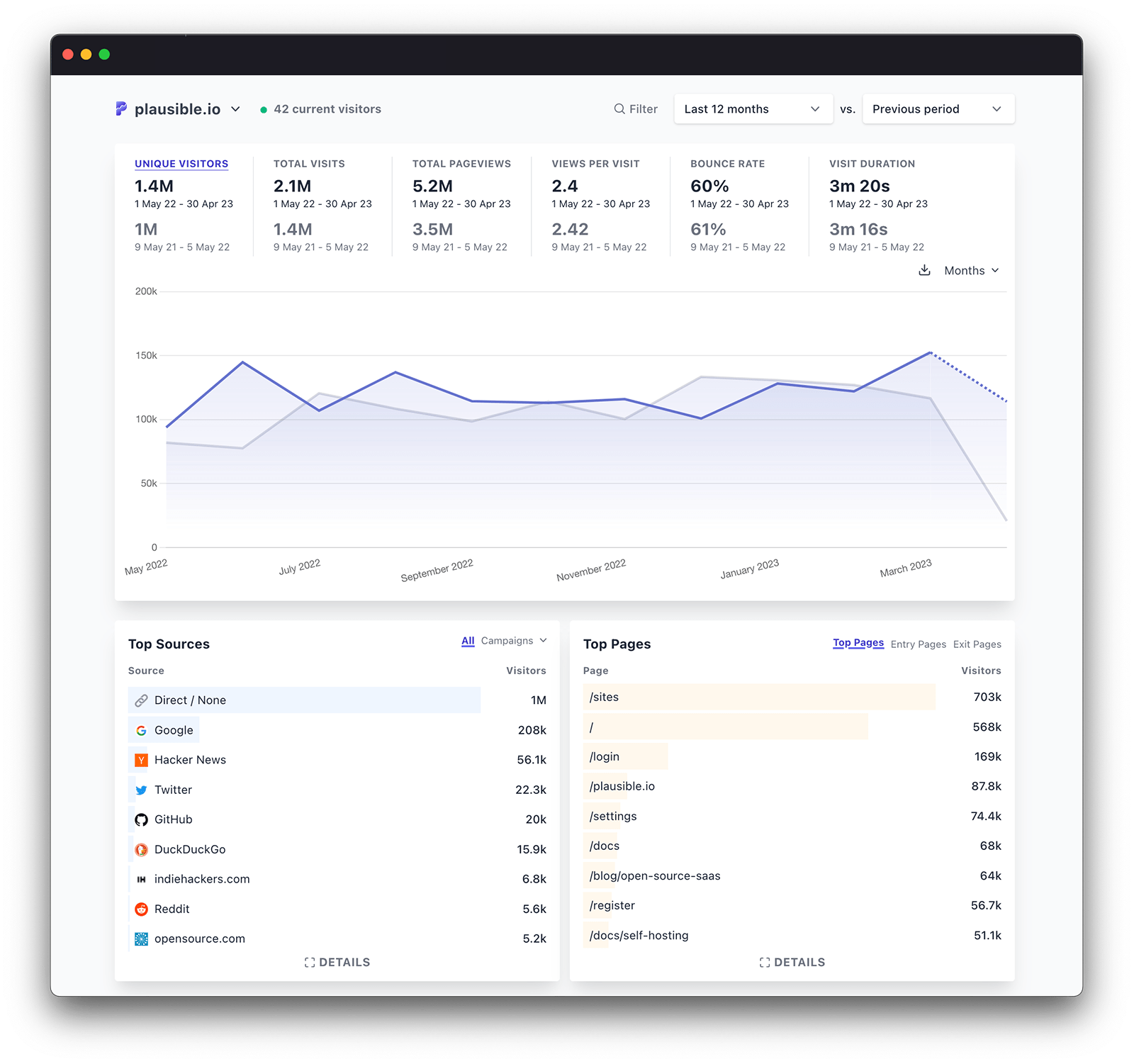 Check website traffic and site analytics in 1 minute

Plausible is simple and it cuts through the noise. No layers of menus, no need for custom reports. Get all the important insights on one single page. No training necessary.

Lightweight script which keeps your site speed fast

Plausible script is 45 times smaller than Google Analytics script. Your page weight will be cut down, your site will load faster and you will reduce the carbon footprint for a greener web.

Doesn't track nor collect any personal data

Plausible respects the privacy of your visitors. Your traffic data is not used for any other purposes. You fully own and control 100% of your data.

Define key goals and track conversions

Set custom events or page URLs as your goals and see how they convert over time to understand and identify the trends that matter.

Get weekly or monthly reports directly into your inbox

Keep an eye on your traffic with automated email reports. Email reports can be scheduled to be sent to multiple recipients.

Open your web analytics to everyone

Your stats are private by default but you can choose to be transparent and make them public so anyone with your custom link can view them.

Share the stats privately with your clients

You can share your stats privately by generating a shared link. This link is impossible to guess but you can add password protection for extra security.
Simple analytics at a glance
Google Analytics is overkill for most site owners. Plausible is easy to use and understand with no training or prior experience.
Unique visitors, pageviews, bounce rate and visit duration

Choose the time range that you want to analyze. The visitor numbers are automatically presented on an hourly, daily or monthly graph.

Top referral sources and most visited pages

Answer the most important question about your website – where are your visitors coming from and what are they viewing?

Visitor location and device stats

See the list of countries your traffic is coming from. See the device, browser and operating system your visitors are using. All the basics in a completely anonymous way.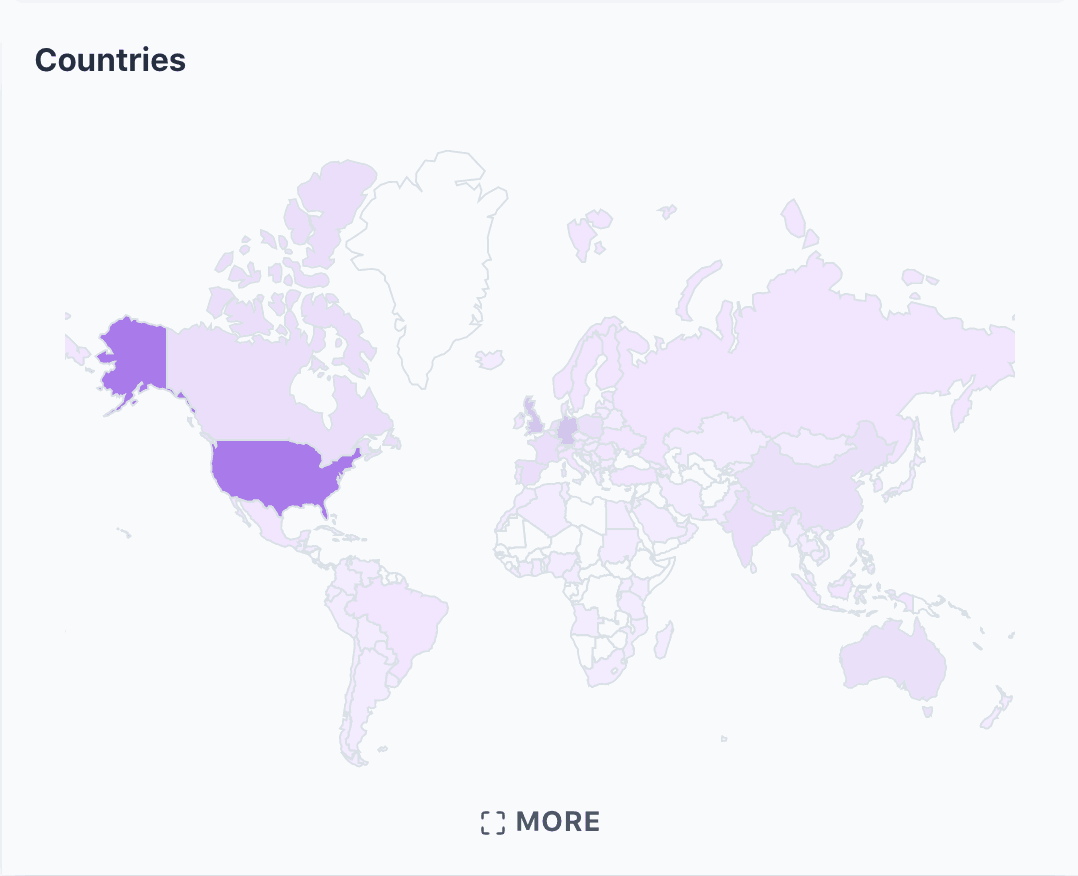 Integrates seamlessly with your favourite tools
Plausible is simple to set up and integrate with popular tools such as WordPress, Ghost, Squarespace, Wix, Weebly and Google Search Console.
Simple, traffic-based pricing
Sign up for 30-day unlimited trial. No credit card required.
Monthly billing
Yearly billing

33% discount
What's included
Unlimited websites

100% data ownership

Email reports

Custom domains
Frequently asked questions
1. Can I use Plausible on more than one website?

Yes. You can add as many websites as you want under a single account. You will be charged for the total pageviews on all of your websites combined. For example, on the 10k plan you can either have 10 websites that each get 1000 pageviews per month, or one website that gets 10,000 pageviews per month.

2. What happens if I go over my plan limit?

You will never be charged extra for an occasional traffic spike. There are no surprise fees and your card will never be charged unexpectedly.

If your page views exceed your plan for two consecutive months, we will contact you to upgrade to a higher plan for the following month. You will have two weeks to make a decision. You can decide to continue with a higher plan or to cancel your account at that point.

3. Is Plausible open-source?

Plausible is fully open-source and available on Github so you can check out the code. We welcome feedback, have a public roadmap and are available to you via email.

4. Can I self-host Plausible??

Yes. We have a free as in beer Plausible Analytics Self-Hosted. It's exactly the same code as our Cloud solution, only the self-hosted version you have to install, host and manage yourself on your own server.

5. Why is Plausible not free like Google Analytics?

Google Analytics is free because Google has built their company and their wealth by collecting and analyzing huge amounts of personal information from web users and using these personal and behavioral insights to sell advertisements.

With Plausible, you 100% own and control all of your website data. This data is not being shared with or sold to any third-parties. Since we don't make money from targeted advertisement, we must ask for a small fee to keep the servers running.

6. How do you make sure my visitors' privacy is protected?

We take painstaking care to not collect or store any personal information that could be tied back to the visitor. You own your data and we will never sell it or use it in nefarious ways. Read more about our data policy.
Ready to dive in?

Start your free trial today.